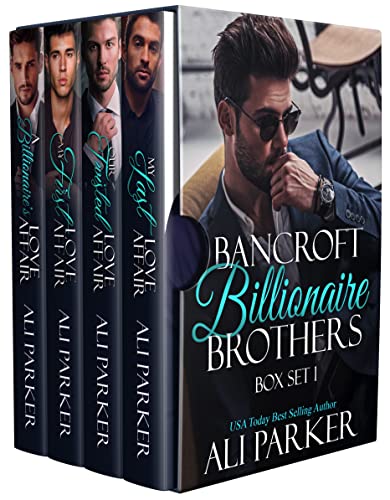 $0.99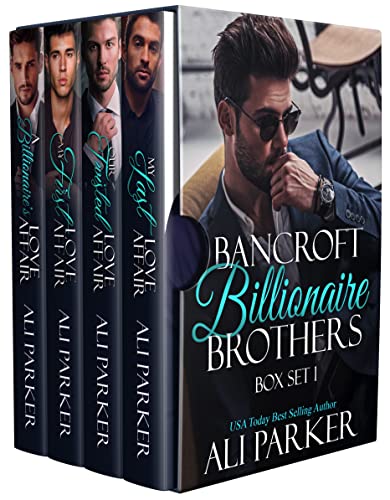 $0.99
4 Billionaire Romances for your reading pleasure…
Book 1- My Last Love Affair
Get Married. Have a child.
These are the only two rules to get my inheritance.
Neither of which I want. My billionaire life doesn't play well with either idea.
But no one asked me. My father's company is up for grabs, and whichever of my brothers makes it to the finish line first wins.
In no time, I've found the perfect woman to play my fake fiancée while I figure things out.
Beautiful. Smart. Strong.
Everything I crave in a relationship and more.
But there's a problem. She's got a past I can't ignore.
Not with just anyone.
With my younger brother.
To top it all off, she gets pregnant.
And the one person she doesn't tell?
Me.
Book 2- Our Twisted Love Affair
I'm in love with the wrong girl.
Our fathers were arch enemies in business. Hate was the center of their wicked relationship.
Not only that, but she's my best friend's little sister.
But it's irrelevant. We made a pact together.
One I'm counting on to hold steady.
If I wasn't married at thirty-five, then this beautiful girl would become my bride.
But her career is more important. I'm a billionaire, so I get it.
There's only so much a man can take, though.
Fate isn't so friendly, though. She's carrying a secret.
My baby.
Our Romeo and Juliet story twists around every bend, but I'll be damned if my girl isn't going to get her happily ever after.
I'm a Bancroft, and we get what we want.
When we want it.
All I want is her.
Book 3 – My First Love Affair
Love isn't for the black sheep of the family. Believe me. I'm him.
Roses. Chocolates. Love notes.
Bullshit. Until it isn't.
Never in a million years did I expect to fall in love.
Let alone with her. My favorite childhood enemy.
This girl used to make my blood boil just by walking in the room.
Now she does other things to me with nothing more than a look.
And it's making me want more than the tense passion we keep doing nothing about.
I'll break down her walls and show her a side of me she's never seen. One that will steal her breath and hold her heart hostage.
And no matter how hard she resists, this girl?
She's mine. All mine.
Book 4- A Billionaire's Love Affair
She doesn't want to work for big business, and baby, I'm BIG.
My billionaire family calls me back to New York.
Time to take over the charitable foundation we have.
Alas, I return. There's a lot of money behind the family name, and I want my cut.
My own pleasure can take a back seat, or so I thought.
Even though she's totally against working for "the man," my new hire joins the foundation and the electricity between us could light up the night sky.
Never in my life has someone taken my attention like this woman has.
Not sure how the media would feel about the most charitable guy in New York spending his time leg-locked with a bleeding heart like my girl is.
But who cares? I have money, fame, and her.
Honestly, it's the perfect love affair.
What could go wrong?
Deal End Date: 2023-02-23