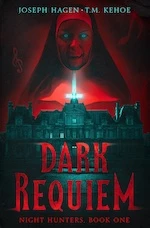 $0.99 $4.99
Dark Requiem
by Joseph Hagen and T.M. Kehoe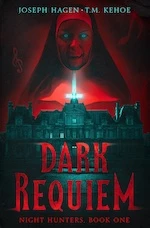 Rockstars, nuns, and vampires…
Seeking fortune and fame, Nikki and her band head to St. Louis, Missouri. Hard on cash and in need of paying gigs, they hole up and practice in a closed, rundown high school owned by nuns. What could go wrong?
A lot actually.
Pets, children, and even whole families begin disappearing from the area. Also, the old building they are inhabiting has it's share of secrets. When Nikki discovers vampires are real and not fiction, she'll have to fight her own disbelief as well as a supernatural, malignant force trying to control her mind.
The sensible thing would be to run but the vampires are planning an upcoming bloodbath in the area and Nikki may be the only one capable of stopping the horror.
Nikki just wants to be a rockstar but now her destiny is shaping up to be something much bigger—she's in a fight for her life where possibly even her soul is on the line.
For fans of urban fantasy and occult thrillers where vampires exist in the real world. Balancing exceptional character arcs and dark horror, this new release is sure to get your blood pumping!