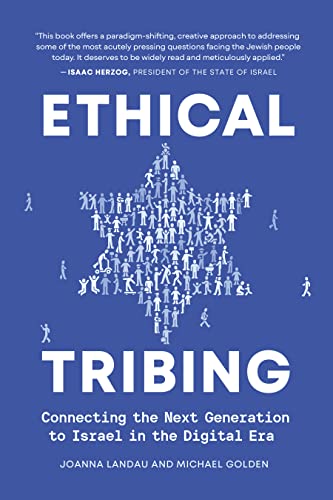 Free $1.89
Ethical Tribing
by Joanna Landau and Michael Golden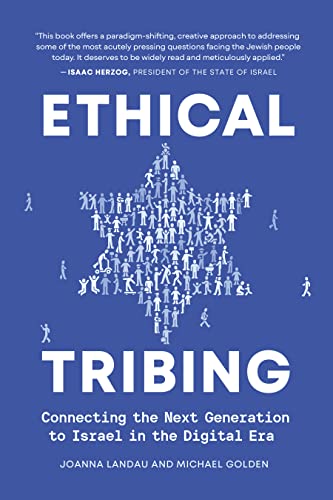 "This book offers a paradigm-shifting, creative approach to addressing some of the most acutely pressing questions facing the Jewish people today. It deserves to be widely read and meticulously applied."
— ISAAC HERZOG, PRESIDENT OF THE STATE OF ISRAEL
Discover the Fastest and Most Effective Way to Inspire the Next Generation About Israel in the Digital Age — and Why it is an Essential Key To Securing the Future of the Jewish People
What if everyone's social media feeds were exploding about Israel — but for all the

right

reasons?
What if your kids were able to walk around campus

without

having to hide their Jewish identity or support for Israel?
What if there was a way to tell Israel's story that really resonated with young Jews

and

non-Jews alike?
Imagine how this would change your life, your community, your world!
In Ethical TribingTM: Connecting the Next Generation to Israel in the Digital Era, authors Joanna Landau and Michael Golden guide you through the actual steps needed to successfully counter one of the greatest threats facing the Jewish people today: a Next Generation that is less and less connected to both Israel and their own Jewish identity.
Whether you're a devoted advocate for Israel, a Jewish community leader, or just a concerned parent or grandparent, this book is for you.
Joanna Landau is a globally recognized specialist in country branding and influencer marketing. Over a decade ago she founded Vibe Israel, a Tel-Aviv based nonprofit that has successfully generated more than a billion positive mentions about Israel on social media. Michael Golden is an American bestselling author and national award-winning journalist. A social change-maker in the field of community college education who has also worked for the Anti-Defamation League, he serves as a member of Vibe Israel's Global Advisory Board.
In Ethical Tribing, you will learn:
How to get inside your kids' shoes and see the world

through their eyes

, so that you finally understand how to relate to their life experience and respond better to their concerns

Why it will take 3 paradigm shifts in how we think in order to effect real change in the way the Next Generation perceives and engages with Israel

How social media is so much more than just another communication platform — and what you must do to leverage it for Israel and the Jewish People's benefit

The 4 steps to shift young people from being

indifferent

about Israel to becoming dedicated

advocates

for it
The secret benefits of investing your energy into

positively

promoting Israel amongst those willing to listen, rather than focusing all your efforts on trying to sway the naysayers (usually without success)

6 tried-and-tested tactics, making up the acronym R.E.S.P.C.T., to dramatically transform the way young people think and feel about Israel

The 3 core narratives of Israel's story that are proven to appeal highly to young people — Jewish

and

non-Jewish — and the one sentence that pulls the story together in such a way that keeps them coming back for more
Why social media is the

least

effective platform to successfully advocate for Israel when the situation on the ground flares up…

…And the 3 surprisingly counterintuitive steps for how to behave differently the next time it does in order to achieve dramatically better results for you personally, and for the Jewish People collectively

Real-life examples and case studies of the tactics and methods other countries use to successfully engage relevant audiences, and how Israel can use the very same tactics to its immediate benefit
Deal End Date: 2023-02-01