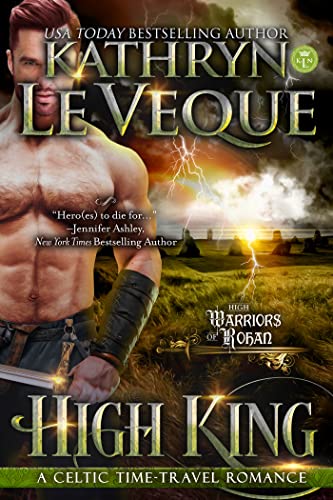 $0.99 $3.99
High King
by Kathryn Le Veque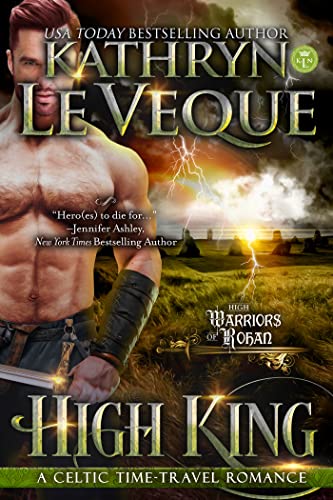 Love is immortal and time, as we know it, is circular. Souls never truly die, but connect with each other in different times, different worlds.
A modern American girl is about to discover just how mystical the world can be.
And just how much she loved an ancient king… and was loved in return.
Destry Caldbeck, smarting from being jilted at the altar, travels to Ireland on what was supposed to be her honeymoon. While visiting Dowth, an ancient Neolithic site outside of Dublin, she encounters a group of students and their instructor. Dr. Conor Da Derga is everything an Irishman should be – enormous, muscular, red-headed, and drop-dead sexy. He's also loud, booming, animated, and brilliant.
Conor, having seen the gorgeous American with the bright eyes when she first arrived at the mound, is thrilled to have a chance encounter with her. Destry and Conor share a moment of undeniable attraction before ancient incantations and ghostly visitations begin to lend clues to their past lives as an ancient king and queen. Soon, they find themselves caught up in a maelstrom of time shifts, landing them back in the Middle Ages of Ireland's history where they discover a high king's destiny.
But their situation is far more complex and dangerous than it seems.
Conor was once known as the Ard-Rí of Ciannachta, a powerful ancient kingdom. As the High King, he was much respected but as he quickly discovers, his jealous brother rose up against him and Conor and Destry were banished to the nether regions by an evil wizard. But the forces of good are with them and they are returned to Ciannachta to once again claim the throne and save the land, now suffering under the false king. It's up to Destry and Conor to save a kingdom that once belonged to them and to understand that their lives are caught up in an ancient cycle of fate they can't control.
And a love that will never end.
Live the adventure.
Read for FREE in Kindle Unlimited!
(Note: The first part of High King was previously published as "Echoes of Ancient Dreams" in 2014. High King is the complete novel, parts one and two combined.)
Deal End Date: 2023-03-09