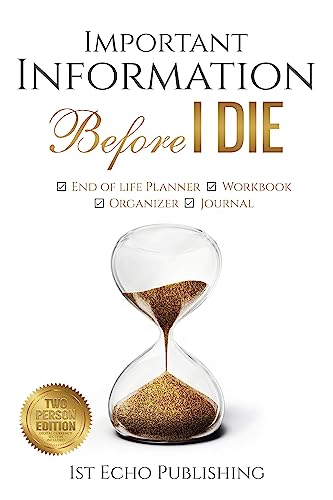 Free $8.99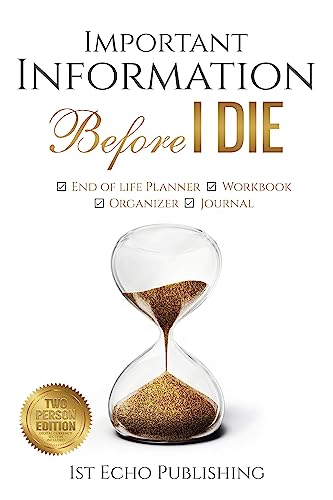 Rest assured that your affairs will be in order, and give your loved ones a clear roadmap to follow when the time comes with this all-in-one organizer.
Have you considered what will happen to your belongings, finances, and end-of-life wishes after an emergency or when you're gone?
By planning ahead, you can have peace of mind and make a meaningful contribution to your family's future. With the Important Information BEFORE I DIE – End of life planner, workbook, and organizer you can quickly and easily organize important information with your spouse or partner.
This comprehensive guide will help you navigate the complex process of end-of-life planning. You will learn what documents you need to keep handy, what important information you need to have written down, and anything you may still have left to do.
In this guidebook to getting your affairs in order, you and your partner will be able to keep track of:
Your Personal, Medical, And Financial Information
Joint Accounts, Insurance Policies, And Loans
Any Real Estate Or Property Held Jointly Or Alone
Monthly Subscriptions And Bills Your Loved Ones Need To Be Aware Of
And More!
Whether you are looking for a complete end-of-life planning guide or just want a handy place to store all your essential information, Important Information BEFORE I DIE is a valuable resource for anyone who wants to ensure that their final wishes are respected, their affairs are in order, and their loved ones are supported during a difficult time.
Scroll up and click 'Buy Now' to get your copy today!
Deal End Date: 2023-06-15