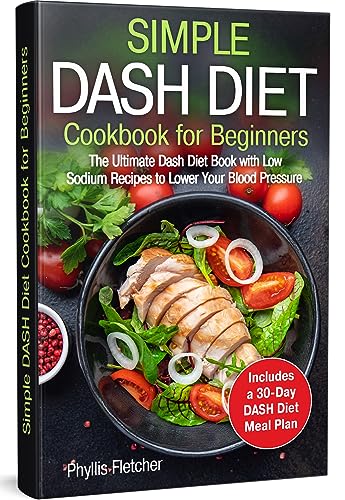 Free $9.99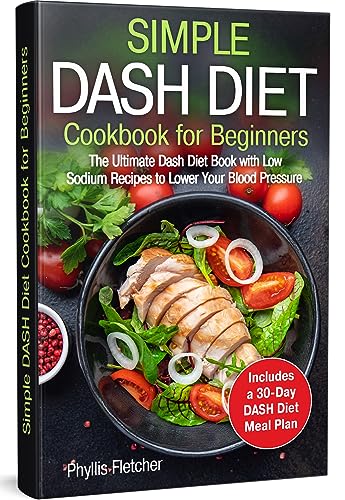 Do you want to take charge of your health and find an easy, effective technique to lower your blood pressure? Look no further! The "Simple Dash Diet Cookbook for Beginners" is designed to help you get started on the path to better health.
This book is for you if you've had enough of struggling with high blood pressure and are looking for professional guidance to restore your health.
You can rest assured that Phyllis Fletcher's advice in this book is grounded in both scientific research and her own clinical experience as a certified nutritionist who specializes in integrated and functional nutrition.
Phyllis Fletcher is driven by a desire to help others improve their health and energy. She has put her considerable knowledge and experience into this Dash diet cookbook for beginners to provide you with a useful tool for achieving and maintaining optimal health.
What You'll Find Inside:
DASH Diet: Your Roadmap to Better Health
Find out how the DASH diet works and why it's recommended for lowering blood pressure. Find more about the RDI, portion sizes, and the significance of salt and potassium in your diet. You can rid your diet of harmful fats by implementing some simple changes.
What to Eat and What to Avoid on the DASH Diet
Our extensive collection of DASH Diet-accepted meals can help you fill your plate with delicious and healthy options. We also advise you on what to avoid or limit in your diet. Strive for harmony on your DASH Diet journey for optimal results.
Your 30-Day Meal Plan: A Recipe for Success
Stop stressing over what to eat each day! We've taken the worry out of your journey with a carefully curated 30-day food plan. Every day, you'll find a new and delicious recipe that supports your DASH Diet objectives.
A Gastronomic Odyssey — Savor Every Morsel
Explore your taste buds' potential with our delectable recipe selections. Delicious breakfast, lunch, and dinner recipes will hold your hunger at bay all day long. Don't forget to round off your meal with one of our delectable desserts or guilt-free appetizers, snacks, and sides. Fast and healthy smoothies are here to save the day when it is particularly hectic.
Additional Resources: Metric Conversion Chart
Don't worry about doing the right calculations! Using the conversion chart, you can easily use your favorite measuring system with any of our recipes.
Take Immediate Steps to Better Your Health!
The "Simple Dash Diet Cookbook for Beginners" is your ticket to a new, healthier self. The DASH diet is a proven method for lowering blood pressure and improving overall health.
So, why are you stalling? Just scroll up and click "Buy Now" to start improving your life today.
Deal End Date: 2023-09-17