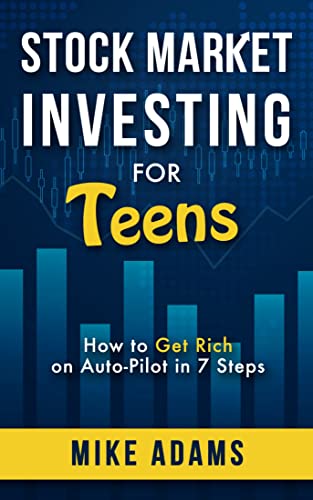 Free $0.99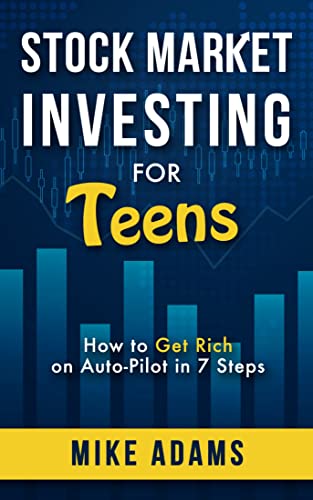 Everything teenagers need to know about investing in the stock market!
"An investment in knowledge pays the best interest." – Benjamin Franklin
Did you know that nine out of ten people who retire today have less than $100,000 saved? That's why financial freedom should not just be a concept you dream about – it should be a goal you strive to achieve. For every dollar you invest, you get more than a dollar back. This means that you can use your money to make more money. That's the power of investing!
In Stock Market Investing for Teens, Michael Adams offers an easy-to-follow roadmap for you to get started. Regardless of whether you're a teen, a senior citizen, or anywhere in between, this guide will show you how to take stock of the market, ignite your investment portfolio with platforms for investing, and explore assets for different investment goals.
With this book, you will:
● Harness the power of compounding to multiply your investments exponentially
● Earn millions of dollars with relatively little up-front capital
● Make smarter decisions and avoid common investing pitfalls
● Step out of the rat race by creating more passive streams of income
● Strengthen your mindset to think positively and take action confidently to succeed
● And much more!
In order for you to become a savvy investor, this book seeks to arm you with the information and knowledge you need. You can progress from having little stock market information to comprehending the underlying concepts of investing and how to apply them to your financial advantage in just seven easy steps. In the end, you will be able to achieve financial independence thanks to your increased ability to make sensible choices and take calculated risks. Although success cannot be guaranteed, the more information you possess, the better your odds are of achieving your financial objectives.
You can become a successful investor and reach financial independence sooner than you might have thought possible with the proper information and direction. The majority of people put off saving until they are much older, but you can start now. You might already be well on your way to a stable financial future by the time you approach adulthood. The sooner you start, the better!
This book provides the tools and knowledge to take that first step on your investing journey and make the best decisions for your future. Whether you're new to investing or an experienced investor, this book will provide the insight and understanding needed to start building wealth today.
So, start your journey to financial success today and buy a copy!.
Deal End Date: 2023-04-03