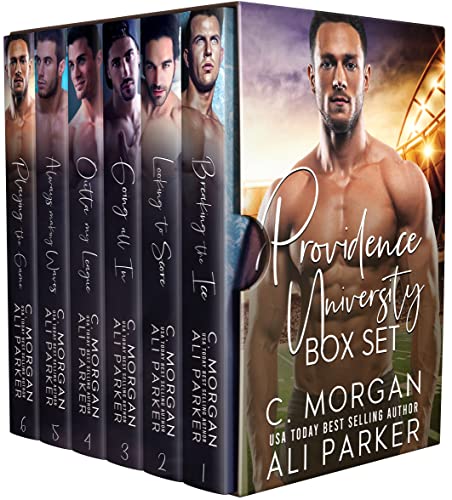 $0.99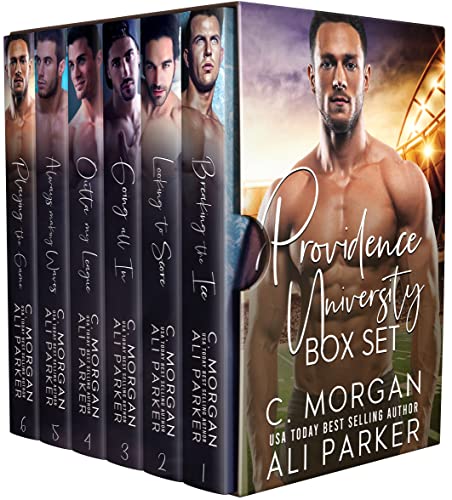 $0.99
6 Completed College Romances for your reading pleasure…
Breaking the Ice (Providence University Book 1)
He's moody, stubborn, and quite possibly the hottest guy I've ever seen.
And I've seen quite a few, but this one… I've been watching him since freshman year of college.
As a curvy girl who's had to work hard all of her life to be a ballerina in a world where I don't often belong, I'm up for the challenge.
And he is soooo worth it.
First things first. Time to break the ice.
Looking to Score (Providence University Book 2)
I've been called many things, but "unlucky" isn't one of them.
Being the President of the largest fraternity on campus makes that part easy.
Like me. And I wear that badge proudly.
But like most guys, I have two sides to me. One I project, and one I reject.
And I'm at my wit's end with trying to balance everything, including being the best soccer player on the field, until she shows up.
The best part? She's not having any of my crap. She's working for my dad now.
She doesn't know what she's missing. Or maybe she does?
Whether on the field or the campus grounds, I'm always looking for one thing.
Looking to score.
Going All In (Providence University Book 3)
Being the nice guy leaves me open to being a rebound romance.
Which I'm not interested in. I've got better things to do.
Like taking my spot on the NBA draft picks. It's all that matters to me.
Love has never been on the radar.
Then life slows me down.
An injury at the end of the spring semester has me working my way back to full health all summer long.
And wouldn't you know it? I'm paired up with the most beautiful and aggravating girl on the women's basketball team.
I might need my body to heal, but this pretty woman needs her heart mended.
I'm up for the job.
This one is mine. I'm going all in.
Outta My League (Providence University Book 4)
This woman has been driving me crazy for far too long.
I fell in love with my sister's best friend.
To top it all off, she's brilliant. And I'm failing Chemistry.
Of course, when I get her help, she's laidback about it.
Charming and helpful as always, like she doesn't know how much I want her.
She's the woman I want in my life forever.
Now to convince her of it…
Always Making Waves (Providence University Book 5)
Water, waves, and women.
That's my focus for my time at Pro-U. As it should be for a guy who looks like me.
Unfortunately, I failed English the semester before and now I'm scrambling to keep my spot on the swim team and on the campus.
The last place I expected to find help was from a hot goodie-goodie on the girls' team.
Love isn't for me. It's too messy. Too complicated.
I like still, smooth waters, but this girl ain't having it. She's livening up my life with her smile and soft touch.
She's doing what the bad girls do but I somehow failed to notice it until I started to drown in wanting her:
Always making waves.
Playing the Game (Providence University Book 6)
My bad reputation is legendary.
It's unfortunate, but it's something that's always plagued me.
It's commitment issues. Or maybe it's that I haven't found a woman that's willing to put in the effort to settle me down.
Either way, it's getting old. I'm ready for the right girl in my life, on my arm, in my bed.
And I just found her.
A little hottie on the female rugby team. As team captain of the guys, I know when someone has the right moves on the field.
This girl is it.
Unfortunately, I've spent a lot of years playing the game.
Deal End Date: 2023-02-16